2 weeks ago, Stacy & Matthew brought me to this place called Damansara Village for dinner. Matthew special emphasized that the prawn still alive and will jumping around which is the restaurant unique selling point! Both of them picked me up and we went to this steamboat place, it's a cozy place at damansara jaya. Very tropical feel and spacious, you can find the fishes, prawns and crabs still alive swimming in the aquarium. OMG! attractive yeah!
This restaurant offers set menu i.e. steamboat set for 2 persons and a la carte menu. The charges kinda pricey for a la carte. Somehow is worth to buy the first experience to dine in here. Just imagine the prawn still dancing & jumping on plate and you need to throw all of them into the hot soup pot. 'kill' them softly with the hot soup! gee...sounds bit cruel tho...Nevertheless, the food is extremely fresh there! the giant clam still alive too. We ordered set menu for 2 persons and a la carte, giant clam, 200gm prawn, abalone slice, mussel, foochew meat ball and paper wrapped chicken. The herbal soup really yummy! good for health, after u had it will feel bit heaty. If you fancy freshness and want to buy an experience for dancing prawns, give it a try!
After the steamboat, we end up karaoke session in One Utama till 4am...OMG! can't imagine we really can sang for so many hours! duh!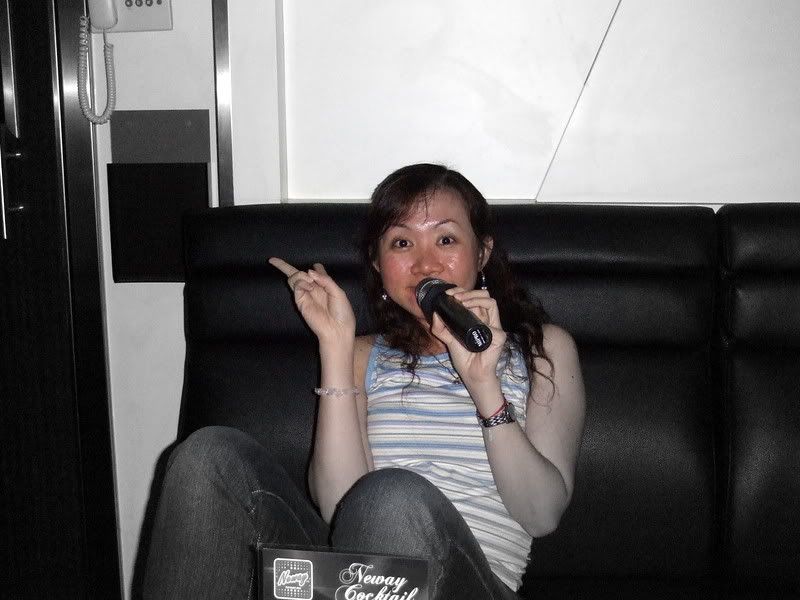 sing like no tomorrow!